Here's how the Venice Beach BID has been working to serve our district in July 2019.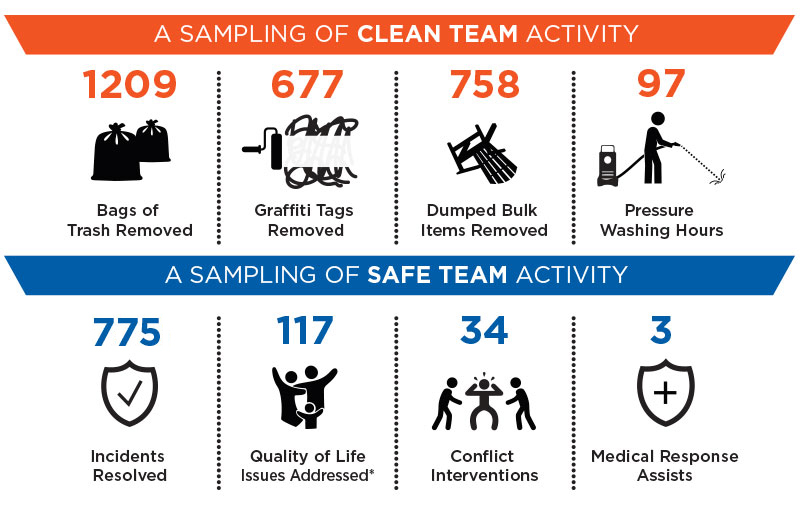 VENICE BEACH BID IN THE COMMUNITY
Our Clean Team workforce is making a difference in so many ways!
When we started the BID, a high priority in the community was to hire locally as much as possible. We are very pleased to report that all current Clean Team members are locally hired – and we have established a pathway for formerly unhoused Venice community members to gain transitional local employment through Chrysalis. Transitional employment is what helps people experiencing joblessness get back on track.
Before this BID started, there were very few transitional jobs available on the Westside. Because the BID Clean Team is able to hire about 15 people at any given time, and because transitional workers are encouraged to move up the employment ladder, this represents a significant number of new opportunities. Most recently, one Clean Team member was able to move into a full time driver position at Chrysalis, and two formerly unhoused team members from Venice have just moved into permanent housing!
---
Click to download a PDF file of the Community Update
---
*Includes noise complaints, misuse of bikes and scooters on public walkways, and public drinking/smoking/urination/defecation.
Clean Team data is provided by Chrysalis. Safe Team data is provided by Allied Universal. Activities are reported daily by Clean and Safe Team members, who are employees of Chrysalis and Allied Universal, respectively. Chrysalis and Allied managers compile these reports into a monthly summary. The VB BID relies on our vendors' decades of BID expertise for the statistics we provide.
Please Call Us!
In an EMERGENCY situation, please call 911 before notifying the VB BID. To request service for non-emergency incidents, call our dispatcher at 310-396-VBID (8243).