Each of the people on our team believes passionately in the benefits the BID will bring to our community – including Clean & Safe services, local employment opportunities, and partnerships with other area nonprofits that will help maximize the good the BID can do.
In the future, we'll be reaching out to add more voices to the mix. If you're a property owner within the service district and are interested in board membership, please contact us.
If you're a Venice community member looking for ways to participate in the BID, drop us a line with your ideas. We look forward to earning the support of the entire Venice community!
Staff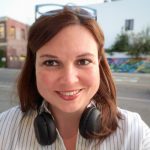 Tara Devine
Chief Executive Officer
Venice Beach BID
With a decade of experience in Los Angeles city government and a nearly equal amount of private sector know-how, Tara excels at bringing people together to solve community problems. She also loves to travel, camp in remote off-the-grid places, and hang out on beaches. Her full professional profile is available here.