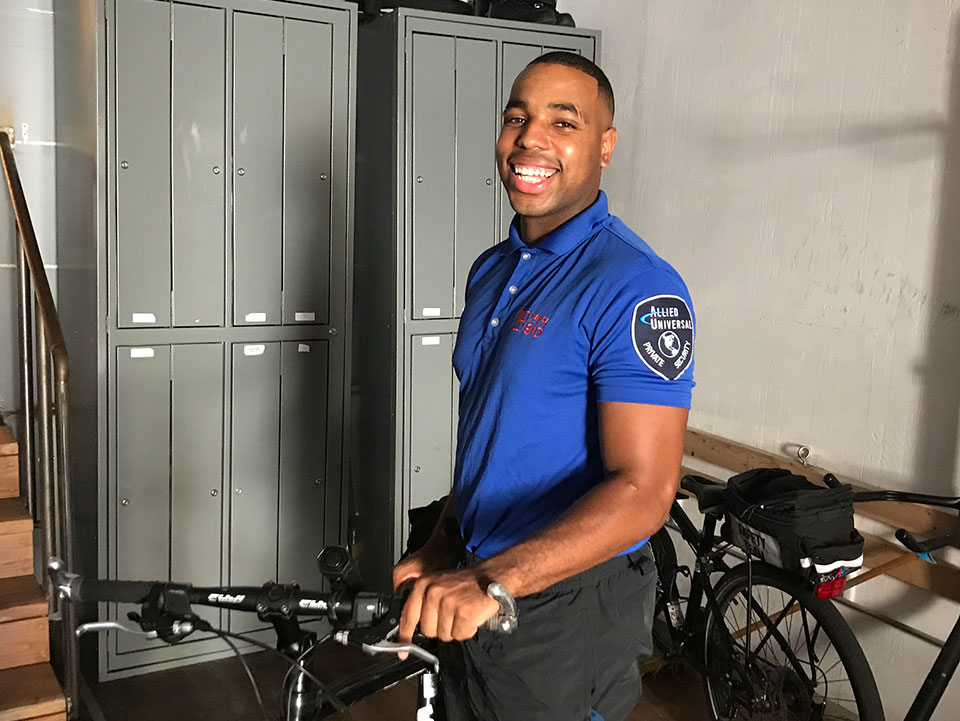 For VB BID Safe Team member Taurean Washington, Venice has offered up some lasting lessons. "I've learned to put aside any preconceived notions," he says. "And I've developed a much better skill set for dealing respectfully with all different types of people."
Taurean has been with the Safe Team since operations started last May. From the earliest planning stages, the VB BID board and staff were committed to creating a program that was uniquely suited to Venice. Hiring Azucena Vela – with her strong background in both social services and security – was a big step toward making that happen. In turn, Azucena makes very deliberate hiring choices and provides ongoing training to her team, which Taurean has found to be eye-opening.
"In Venice, we deal with a lot of people experiencing homelessness. We get to know their names and their situations," explains Taurean. "Our attitude is that we're all people and we all have feelings."
Building Relationships, Day by Day
Safe Team members are held to high standards of conduct. Trained to be observant yet restrained, they know when to alert police. But being out on the streets of Venice every single day allows them to create uniquely beneficial relationships. The Safe Team knows most community members by name, making it much easier for people to ask for assistance or to agree to requests for behavior changes.
Of course, building those connections takes time. Taurean recalls one particular group of unhoused men that he continually got calls about. Some days it was for setting up tents too early. Some days they were blocking pedestrian and wheelchair access. Other days, there were reports of being harassed or feeling frightened. Day after day, week after week, Taurean would reach out to the men, explaining how their actions were infringing on other people's rights – and they would react with belligerence. But his training held. He worked hard to keep every encounter calm and respectful.
And then one day he approached the men with the same polite requests that he felt like he'd made at least a hundred other times. And they just looked up and gave him a nod of recognition. They picked up their stuff and moved out of the area they'd been blocking. A smiling Taurean describes the encounter this way, "It was my best day ever on the job."
Supporting Career Development
Taurean has been a great asset to our Safe Team over the past few months. He attended Humboldt State University to study criminology and forensics, and had significant prior work experience as a safety and security officer. But the VB BID is committed to supporting our Clean and Safe members in transitioning up the career ladder, and we are pleased to report that Taurean has been selected to become an LA County Deputy Sheriff Trainee. The VB BID board and staff are very proud of him and wish him all the best in this next phase of his career.