Here's how the Venice Beach BID has been working to serve our district in August 2019.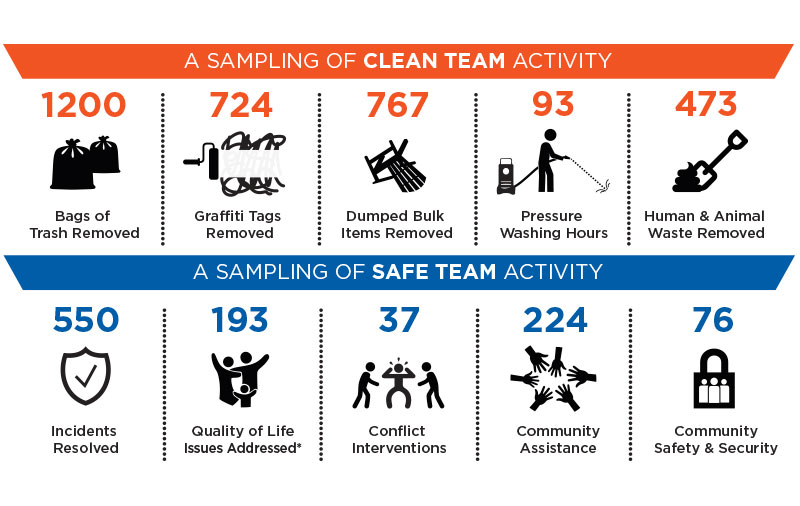 A WORD ABOUT OUR REFRESHED INFOGRAPHIC
Since starting operations in May 2018, we've done our best to stay accountable to our BID district by providing a monthly activity report. Recently we asked our vendor partners, Chrysalis and AlliedUniversal, to provide some additional data that we want to share with the community.
CLEAN TEAM STATS
Venice is home to many unhoused people who live on our streets with limited access to toilets. As a result, our Clean Team is often called upon to remove human feces and urine. They do it promptly and safely. It's a great service to our community, so we decided to add an accounting of that activity. The new category also includes removal of waste when dog owners fail to clean up after their pets.
SAFE TEAM STATS
Our Safe Team's duties are extensive and nuanced. Categorizing them is based on decisions made by Allied Universal's Safe Team leadership. The new Community Assistance category covers everything from handing out bandaids to providing directions. Community Safety & Security includes such things as safety escorts, responding to alarms, medical emergency and accident responses, and lost children.
---
Click to download a PDF file of the Community Update
---
*Includes noise complaints, misuse of bikes and scooters on public walkways, and public drinking/smoking/urination/defecation.
Clean Team data is provided by Chrysalis. Safe Team data is provided by Allied Universal. The VB BID relies on our vendors' decades of BID expertise for the statistics we report to our community.
Please Call Us!
In an EMERGENCY situation, please call 911 before notifying the VB BID. To request service for non-emergency incidents, call our dispatcher at 310-396-VBID (8243).