Here's how the Venice Beach BID has been working to serve our district in May 2019.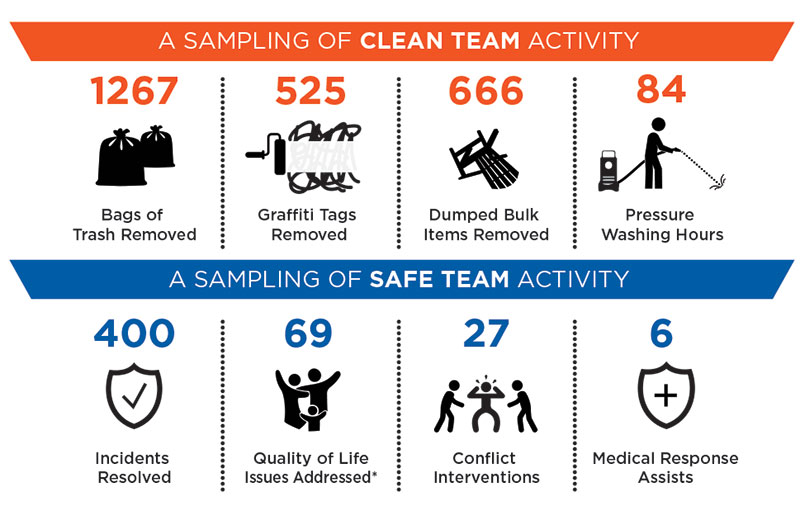 VENICE BEACH BID IN THE COMMUNITY
Did you know?
Clean Team members have assigned routes covering the entire Venice Beach BID. Within our district boundaries, the Clean Team provides these services, among others:
Sidewalk and Gutter Sweeping
Sidewalk Pressure Washing
Bulky Item Pickup on a case by case basis, and we'll place 3-1-1 calls or identify other solutions for items we can't take
Trash Removal from public use trash receptacles
Surface Cleaning and/or Painting of streetscape infrastructure such as benches, pagodas, trash cans, and more
Graffiti, Sticker, and Leaflet Removal up to a height of 9 feet. When you call in a graffiti removal request, you can supply a custom paint color or approve our application of standard colors. Standard colors include the following: White, Black, Whale Grey, Lampost Grey, Palomino Beige, Spanish Brown, Brick Red (terra cotta), Blue (recycle bin blue), and Green (park bench green).
---
Click to download a PDF file of the Community Update
---
*Includes noise complaints, misuse of bikes and scooters on public walkways, and public drinking/smoking/urination/defecation.
Clean Team data is provided by Chrysalis. Safe Team data is provided by Allied Universal. Activities are reported daily by Clean and Safe Team members, who are employees of Chrysalis and Allied Universal, respectively. Chrysalis and Allied managers compile these reports into a monthly summary. The VB BID relies on our vendors' decades of BID expertise for the statistics we provide.
Please Call Us!
In an EMERGENCY situation, please call 911 before notifying the VB BID. To request service for non-emergency incidents, call our dispatcher at 310-396-VBID (8243).